Prices keep rising and rising. Inflation is back with a vengeance. This is especially true at the grocery store, where we keep getting sticker shock at the checkout counter.
Just look at the news headlines:
Beef prices are surging worldwide, Reuters reports.
As food prices continue to rise, beef and pork have surged out front, the Washington Post says.
If you're a steak lover, you might be out of luck. Just as grilling season kicks into high gear, prices are sky-high.
Overall, inflation rose 5% over the past year — the biggest jump since 2008, according to the Bureau of Labor Statistics.
How can you keep up with rising prices? We've got some ideas.
1. Get Paid Every Time You Buy Groceries
What's your favorite cut of steak? Ribeye? T-bone? Filet mignon?
No matter how strategic you are, groceries still account for a good chunk of your budget. Everybody's got to eat. You may as well earn a little money back while your groceries are being bagged up.
A free app called Fetch Rewards will reward you with gift cards just for buying staples like toilet paper and more than 250 other items at the grocery store.
Here's how it works: After you've downloaded the app, just take a picture of your receipt showing you purchased an item from one of the brands listed in Fetch. For your efforts, you'll earn gift cards to places like Amazon or Walmart.
You can download the free Fetch Rewards app here to start getting free gift cards.
Over a million people already have, so they must be onto something.
2. Pocket up to 5% Cash Back at the Grocery Store
If you're not getting rewarded every time you go to the grocery store, you're missing out on extra money.
Aspiration lets you earn up to 5% cash back on your debit card purchases. For example, right now it gives you 0.5% cash back at Walmart and Target, and 5% cash back at places like Brandless. (For a full list of cash-back percentages, visit Aspiration's website.)
It takes just five minutes to sign up for a new debit card with the Aspiration Spend and Save account.
Never leave extra money behind at the grocery store again.
3. Shop Groceries Online (or At Least Pantry Items!)
If you have a massive shopping list, grocery shopping can easily become overwhelming. Next thing you know, you're lugging out hundreds of pounds of groceries — or at least that's what it feels like.
Make life easier for yourself (and your arms) by buying your pantry and dry goods online — and earn cash bonuses along the way.
A free website called Rakuten has connections with more than 2,500 stores, which means it can give you a cash kickback when you shop at one. When we checked, we found deals at Amazon, Safeway, Sam's Club, Boxed and Walmart.
It takes less than 60 seconds to create a Rakuten account. All you need is an email address. Plus, if you use Rakuten to earn money back within the first 90 days of signing up, it'll give you an extra $10.
Now you don't have to worry about fitting that 36-pack of toilet paper in your trunk or hauling a box of cat litter across the store. Just have someone deliver it to your door and earn cash back along the way!
4. Stop Overpaying for Groceries You Order Online
Do you pick up groceries after shopping online first? Wouldn't it be nice if you got an alert any time you're shopping online and you're about to overpay?
That's exactly what this free service does.
Just add it to your browser for free, and before you check out, it'll check other websites, including Walmart, eBay and others to see if your item is available for cheaper. Plus, you can get coupon codes, set up price-drop alerts and even see the item's price history.
Let's say you're shopping for a new pair of shoes, and you assume you've found the best price. Here's when you'll get a pop up letting you know if that exact pair of shoes is available elsewhere for cheaper. If there are any available coupon codes, they'll also automatically be applied to your order.*
In the last year, this has saved people $160 million.
You can get started in just a few clicks to see if you're overpaying online.
5. Get an Extra $225 to Use Toward Groceries This Month
If we told you that before you head to the grocery store, you could get paid to watch cooking videos on your computer, you'd probably laugh.
No way, right? But we're serious.
A website called InboxDollars will pay you to watch short video clips online. One minute, you might watch a chef teach you how to make fudge brownies, and the next, you might get the latest celebrity gossip.
All you have to do is choose which videos you want to watch and answer a few quick questions about them afterward. Brands pay InboxDollars to get these videos in front of viewers, and it passes a cut to you.
Unlike other sites, InboxDollars pays you in cash — no points or gift cards. It's possible to earn up to $225 per month watching these videos, which could make a serious dent in your grocery bill.
It takes about one minute to sign up, and you'll get a $5 bonus to get you started.
The bottom line is, prices at your grocery store are going to keep going up. The price of steak will keep rising.
Like it or not, that includes the price of everything you eat — including steak.
If you start following at least a couple of these tips, you'll put yourself in a better position to handle rising grocery prices. And keep eating steak.
Any of these strategies will help.
Just pick one to start with.
Mike Brassfield ([email protected]) is a senior writer at The Penny Hoarder. He likes his steak medium rare.
*Capital One Shopping compensates us when you get the extension using the link provided.
This was originally published on The Penny Hoarder, which helps millions of readers worldwide earn and save money by sharing unique job opportunities, personal stories, freebies and more. The Inc. 5000 ranked The Penny Hoarder as the fastest-growing private media company in the U.S. in 2017.

How do you make money following the pandemic?
Edmund Lowman has entrepreneurship in his DNA, and as CEO of a huge hospitality company, had to originate some tough decisions in 2020.
He shares what he did to create new companies to try to get existing staff still cultivating and deserving, in spite of the pandemic.
He even prepared a point to procreate $30,000 in 90 days working whatever talents "hes having" … including teach English!
He contributes big inspiration if you're lacking self-confidence to make money, and renders some practical admonition that you could implement straight away, even if you have very low technical skills.
Edmund was in a platimun-selling rock band. He then started and successfully exited a Chinese import/ export company.
He then started a fad company announced IFG Fashion which was then successfully exited to Zara.
He to come to Thailand and started. the# 1 hostel symbol in Asia, Slumber Party Hostels.
Check out Edmund's YouTube channel now: https :// www.youtube.com/ path/ UCLYk1Mec 3d86UqAfueGxrlQ
And his website here:
https://edmundlowman.com
00:00 How 2020 realized us start working quick
01:33 Results from making new companies
03:30 Presell, rather than building something first
04:50 Various ways of making money
08:50 Free teaching or paid?
13:00 Alternate ways for marketing neighbourhood businesses
16:20 Looking at your skills
18:00 Creating $30 K in 90 dates
Read more: youtube.com

Mama's home!
After being hospitalized for antibiotic-resistant mastitis, Bachelor alum Lauren Burnham is finally back with her family. As she revealed in Instagram Story posts on…

Ready for the wedding of her dreams.
Vanderpump Rules' Raquel Leviss is already wedding dress shopping in preparation to tie the knot with fiancé James Kennedy. The resident VPR…
Although the COVID-19 pandemic isn't over yet, Americans are totally ready to move into a post-pandemic era. Here's how you can tell: Suddenly — BOOM! — way more people are interested in buying houses and cars.
Seriously, the housing market in lots of cities has gone from red-hot to white-hot, and U.S. car sales are picking up noticeably, too. Zillow predicts the number of home sales will grow by nearly 22% in 2021, the biggest increase in nearly 40 years. And CNBC reports that U.S. auto sales could increase as much as 10% this year.
Are you interested in buying a home or a car? Here's something you need to start thinking about right now: Your credit score. We know that sounds boring, but it's actually super important, if you're going to be signing up for a car loan or a mortgage sometime this year.
The higher your score is, the better deal you'll likely get on your loan. So a good credit score can save you thousands of dollars over the life of a five-year car loan, and tens of thousands of dollars over the life of a 30-year mortgage. For example, on a $21,000 auto loan, the total cost difference between someone with very good credit and someone with fair credit can be $5,000 or more.
If you're looking to get your credit score back on track — or if you just want to bump it up some more — try using a free platform called Credit Sesame.
Within a couple minutes, you'll be able to see your credit score, as well as a breakdown of what factors are contributing to your score and personalized tips on how to manage your credit better.
This way, you'll be in a good position for that major life purchase.
How to Boost Your Credit Score Before Buying a House or Car
First, find out what your score is, right away. See what's affecting your credit — specifically, see what's holding you back. Your score will be based on your payment history, how much of your credit limit you've used, and a few other factors.
Consult the personalized tips you'll get from Credit Sesame. If you make a couple of strategic decisions and manage your credit a little better, you could get tipped over the edge into the next-highest bracket. That could save you thousands.
James Cooper, of Atlanta, used Credit Sesame to raise his credit score nearly 300 points in six months.*
"They showed me the ins and outs — how to dot the I's and cross the T's," he said.
Getting your free credit score takes less than two minutes. Your wallet and your checking account will thank you down the road.
Mike Brassfield ([email protected]) is a senior writer at The Penny Hoarder. He has a Credit Sesame membership.
*Like Cooper, 62% of Credit Sesame members see an increase in their credit score; 50% see at least a 10-point increase, and 21% see at least a 50-point increase after 180 days.
Credit Sesame does not guarantee any of these results, and some may even see a decrease in their credit score. Any score improvement is the result of many factors, including paying bills on time, keeping credit balances low, avoiding unnecessary inquiries, appropriate financial planning and developing better credit habits.
This was originally published on The Penny Hoarder, which helps millions of readers worldwide earn and save money by sharing unique job opportunities, personal stories, freebies and more. The Inc. 5000 ranked The Penny Hoarder as the fastest-growing private media company in the U.S. in 2017.

When it comes to parenthood, these Olympians may just set the gold standard.
With the 2020 Olympics underway in Tokyo, chances are you've found more than a few Team USA athletes to…
Wow! If you're looking for a great way to save on your cell phone bill each month, you'll definitely want to check out Visible Wireless!
Save money on your cell phone bill with Visible Wireless
Looking for ways to cut your monthly cell phone bill? Be sure to check out Visible Wireless! You can get unlimited talk, text, and data for just $40 per month!
And when you add family/friends to your line, you'll get an extra $5 off (up to a max of $15 off) — making your monthly payment as low as $25!
They use Verizon's 5G networks, so you're guaranteed to have really great cell service (unlike many of the other no-contract cell phone companies out there).
Get your first month for just $5! (Plus, other ways to save!)
Right now, they're running a special to get your first month of cell service for just $5 with code ESIM5 at checkout. If your phone is eSim compatible, you'll be able to switch over and get started in as little as 15 minutes!
And if you have your own phone to use with Visible Wireless, you'll get a bonus $50 virtual gift card.
Also, every time you invite a friend to try the service, you'll BOTH get a month of cell service for just $5!
There are so many ways to save and this is such a great deal on monthly cell service that appears to have really amazing service! Win-Win!
Terms apply.
A boy wearing a protective face treating saunters by a mural in the Harlem neighborhood of New York City
The Covid-1 9 pandemic decimated Caribbean American communities in the US. Parish in the most crucial diasporas united to help with health, fiscal, and cultural recovery. Leaders, organizers and artists across the US Caribbean diaspora came together to help communities. See more fibs on Insider's business page.
Since the COVID-1 9 pandemic first began nearly 2 years ago, it exposed sharp imbalances related to poverty, access to healthcare, and overall quality of life that one time left Black Americans more than three times more likely to die from the virus.
"We carry a higher burden of chronic disease that predisposes us to the more serious complications of coronavirus, " Uche Blackstock, a physician who works in Brooklyn told the Washington post. "We don't have access to care and if we do it's likely that charge is of worst quality because they are often expression minority-serving."
While part of the larger contingent of Black Americans, for countless Caribbean American communities in the US, their unique repercussion But for many, the unique
A New York City Health Department map showing the virus' early spread showed vicinities with a high concentration of Caribbean-Americans in the city's Brooklyn, Queens, Bronx boroughs were among the areas most affected by COVID-1 9.
Now, as nations reopen and communities are tasked with rebuilding, Caribbean diasporas across the country told Insider their unity behind their shared ethnic identity is key to their sociopolitical, state, economic recovery.
Many Caribbean American diasporas were in coronavirus hotspots
A dentist receiving the Moderna COVID-1 9 inoculation in Anaheim, California, on January 8, 2021.
mark Rightmire/ Getty Images
Most Caribbean immigrants and first contemporary Americans reside in New York state and Florida according to 2017 data from the Migration Policy Institute – accounting for 63 % of the entire Caribbean population in the US.
Data from the US Bureau of Labor Statistics shows that Black parties hold many of the jobs in the taxi service industry, the foodservice industry, as well as the inn industry. Countless immigrants, including Caribbean immigrants, also work in the healthcare industry – the most frontline works that have been helping for the nation during the pandemic.
A report from the Migration Policy Institute also shows that more than 2.6 million immigrants were employed as healthcare workers as of 2018. They account for 18% of healthcare workers in the US.
That meant when the public was asked to stay at home to drop the arch, it was immigrant communities and Black and brown Americans who primarily remained the country running.
But proponents had pointed out that in polling and surveys, Caribbean Americans are often lumped together with African Americans and that can make it difficult to campaign for their unique needs as a community culturally, politically, and economically.
In 2020, the US Census Bureau exhausted a new questionnaire that included the option for people to note their country of origin, which will assist differentiate Caribbean Americans from African Americans.
"Twenty percent of New York, New Yorkers are of Caribbean descent so it's most important that we're seen, " Shelley Worrell the founder and bos curator of caribBeing, told NY1.
The cultural advocacy radical cautioned that impact came at a cost to the community as the coronavirus spread.
As removals skyrocketed and joblessness flourished, Worrell hopped into gear dish hot snacks to frontline workers at two hospices, including facilities that mainly act the city's Caribbean population in Brooklyn.
Many Black-owned professions, already acutely impacted by disparities in access to federal facilitate, were forced to close altogether or struggled to stay afloat. Among those, Worrell focused attempts on the Caribbean business community federal and mood aid can overlook.
caribBeing's directoryof Caribbean customs then performed as a one-stop-shop to support regional ventures right as a public safarus to reinforce Black-owned firms gained steam following the killing of George Floyd in June.
"We were able to really try to amplify the Caribbean businesses in our places to drive traffic and media attention to the community, " Worrell said.
In South Florida, where the Caribbean diaspora is 21 %, drawing attention to community aids was just as much a public health and cultural necessity as an economic one.
Black Americans, including Caribbean Americans, are all aware of the country's record of medical exploitation which leaves chamber for misinformation to propagate.
With misinformation about the coronavirus and the inoculation has been spreading in the community, Miami-based lawyer Marlon Hill focused primarily on ensuring the people are efficiently informed about what's happening in all regions of the pandemic, as well as facilitating mental health and wellness of the community.
"With the assistance of the Caribbean medical professional community, "were having" imparted a number of webinars to allay superstitions about COVID-1 9 vaccines and the ongoing pandemic, " he told Insider in an email.
But Hill told Insider keeping the community culturally connect is as vital as medically informed. South Florida's annual Caribbean carnival was cancelled last-place October, putting the final claw in the coffin of a fair tourism season that begins with Trinidad and Tobago's pre-Lenten observance in February.
Last year's pose of colorful outfits in the twin-island Republic is one of few the region, and its diaspora in the US and elsewhere, have witnessed ever since – overwhelm a thriving tourism and cultural entertainment scene.
The pandemic devastated parishes reliant on culture and recreation
The annual West Indian-American Carnival Day Parade in Brooklyn, New York allures close to two million people during Labor Day weekend.
Joe Penney/ Reuters
Entertainers and financiers required in order to social media to connect parties the very best path they know how – music. Ronnie Tomlinson, chairman of public relations at Destine Media PR, a full-service agency that works with Caribbean artists, told Insider she was happy to see how naturally entertainers came out to support the diaspora.
"Their intention was to relieve the minds of the people, " she said. "Just exerting the music to entertain parties. We know they're human, however too[ got to] see that side of them."
Similar to D-Nice's Club Quarantine discussions during the pandemic, DJs including Brooklyn-based Kevin Crown and Tony Matterhorn of Jamaica toy live music positions designed to practically recreate the high-energy fetes that can draw thousands of patrons.
Over time, his establishes garnered as numerous as 5000 sees per establish. Crown told Insider that those music seminars started to help love, as well as himself.
"I even lost my uncle to COVID so it was just a lot of feeling every day and as much as[ my music] cured beings, it cured me cope and gave me a purpose, " he said, at the time receiving letters from love that his achievement prevented them from the brink."
Advocates say the tireless work to keep the diaspora together during a meter of world affliction will merely ramp up as countries re-open.
Following a pandemic, and ethnic upheaval that witnessed communities of color targeted, Hill admonished for political leaders to mitigate some of the socioeconomic and healthcare issues in the community by converge the community where they are.
"Be more proactive in sharing these meanings in a colloquial that the community can understand and likewise learn, " he said. "Be more proactive in speaking in our word and in our culture."
Read the original section on Business Insider
Read more: feedproxy.google.com
PlayerWON is a new in-game advertising platform that will allow companies to include video ads in PC and console games, in a similar vein to ads used in mobile games and TV.
The bigger comparison is with mobile, as the ads targets free-to-play games and is designed to reward in-game items and currency to players who watch them.
READ MORE: Why we can't stop watching Twitch after a decade
As reported in Axios, playerWON, owned by Simulmedia, lets users decide whether they want to watch a 15 or 30-second video ad in exchange for unlocking exclusive gaming perks.
Such a method is already popular in free-to-play mobile games, where players are incentivised to watch ads instead of spending real money to gain items such as in-game currency or skins.
EA and Hi-Rez Studios are among the first studios to have signed up to the technology, with the latter's free-to-play game Smite already used to pilot the tech.
Smite. Credit: Hi-Rez Studios
The pilot campaign showed that players were "much more likely" to play a game and spend money within the game if they could acquire perks through watching in-game ads.
Simulmedia's Dave Madden said that 90% of players never buy in-game items, but its research showed that they are willing to watch up to 10 ads per day in order to unlock free perks, making them easier to reach than through conventional video marketing.
The company plans to launch in-game ads in roughly a dozen more games by the end of the year.
These in-game ads look set to fare better than Facebook's attempts to implement 'in-headset' ads in Oculus VR games.
Last month, the developer of VR game Blaston decided to cut the test short after facing backlash from players.
The post playerWON is bringing video ads into games – EA, Hi Rez already on board appeared first on NME.
Read more: nme.com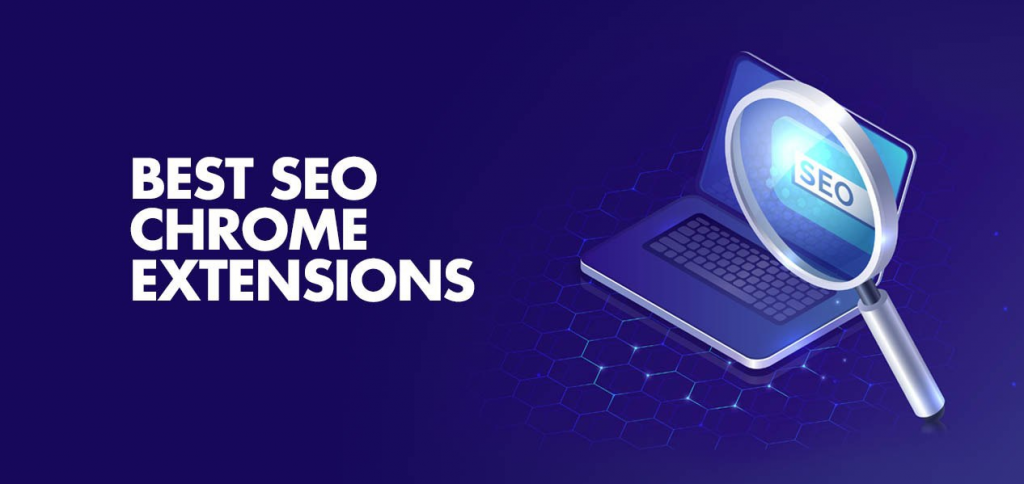 Your browser is probably loaded with extensions to originate being easier. Are any of those a Chrome SEO extension?
Experienced online marketers understand that SEO is the lifeblood of their business. It's how they get ascertained. Without it, they'd be lost somewhere in the millions of websites out there.
To do good SEO requires tools, and cost more than small businesses are willing to pay. True, there's a raft of free SEO implements out there but most of them have restrictions are in place to prepare you go for the compensate version.
SEO Chrome increases are one way to navigate this question. They are usually cheaper than buying software battalions and they oblige the process of optimization faster and more efficient.
Because there are hundreds of SEO Google Chrome increases out there, preferring can be a time-consuming affair. This berth brought you 6 of the very best. We'll look at their the characteristics and flaws( no application is perfect ).
Why Do You Need SEO Extensions?
Even as you read this you may be asking yourself, "How can Chrome SEO extensions be helping? "
Google owns more than 90% of all examinations. About 65% of these examines take place on Chrome. Owned by Google, this particular browser is optimized for this search engine, has loadings of inbuilt features and fast load times.
Online purveyors waste endless hours every day optimizing their websites for Google scours. To optimize a website properly, there is a requirement to strong software.
Fortunately, for SEO, there are Google Chrome increases that you can use to offset soul easier. While they have a bit of a see curve, formerly you understand how to use them they'll save you era and provide the SEO information you need to optimize your locate.
Browser increases are usually cheaper( numerous are free) than apps and come in handy for those who don't have a lot of money to spend on tools.
The best SEO Chrome propagations help formulate strategy because you can see competitor metrics instantly. Their ability to provide instant analytics determines them a favorite for numerous SEO experts.
Note: Although many postponements are said to be "free" they are really not. Downloading them onto your toolbar is free but you often have to pay to access the actual SEO implements with added features and in-depth metrics.
Some browser expansions are completely free but they tend to have limitations. Before you download conducted an investigation into what an extension has to offer and whether the government has convenes your needs. Check how much you have to pay for additional features in case you need them in the future.
Some marketers get out this hurdle by downloading a cluster of various types of propagations that have alternating functionalities.
The 6 Best SEO Chrome Extensions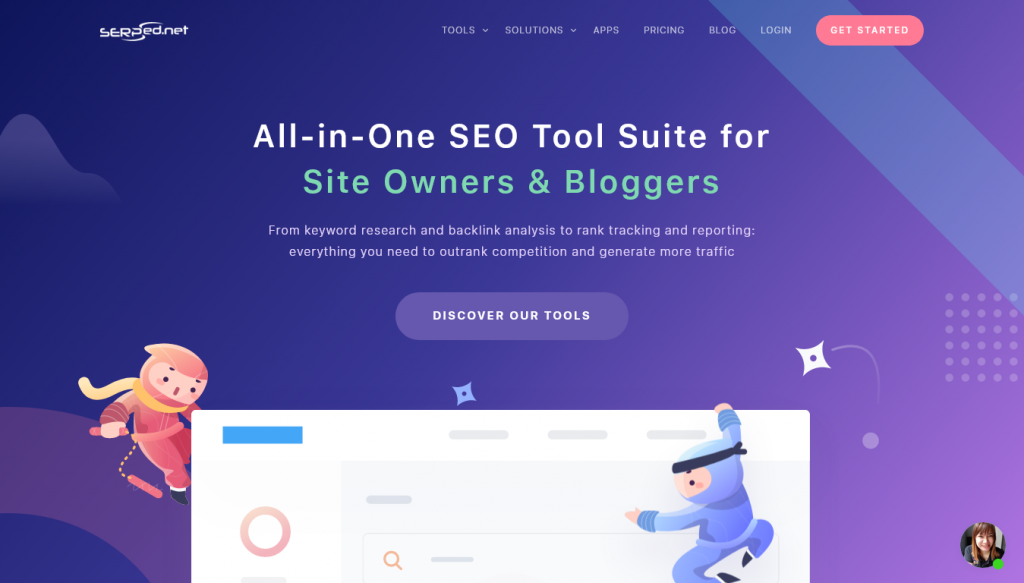 The SERPed.net SEO extension allows you to check SEO metrics on the fly. You can find keyword ideas and see what keywords the competition is grading for. It likewise goes to show backlink metrics for any URL.
This extension also provides Moz and sublime metrics, SERPed rank, Alexa Rank and social signals.
The SERPed.net SEO extension brings together all SERPed.net tools to your browser, making duty easier. You can use it to run a material analysis, check backlinks for different URLs and check the health of a domain.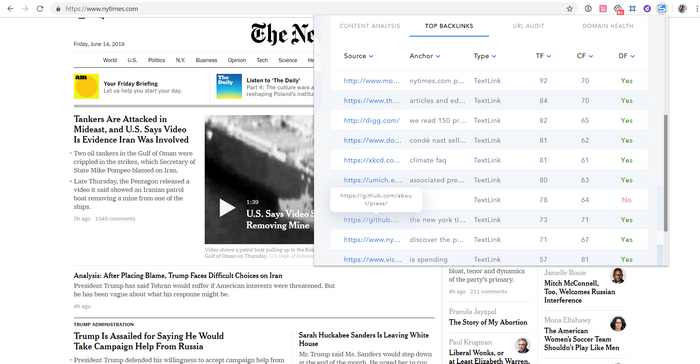 Here's what else you can do with this Google SEO Chrome propagation 😛 TAGEND
Use What Ranks Where to find out what keywords a URL ranks for.Keyword Analyzer gives you an idea of the event for any keyword.Site Explorer furnishes various land metrics.Add backlinks fast with the Backlinks Manager feature. You can use this same feature to remove backlinks if they become inactive or no-follow.Enable the SERPed.net button in Google upshots so that you can see search volume and cost per clink of keywords you examine.
Note: You need to have a paid SERPed.net account to access the features provided by this extension.
Get SERPed Chrome Extension Now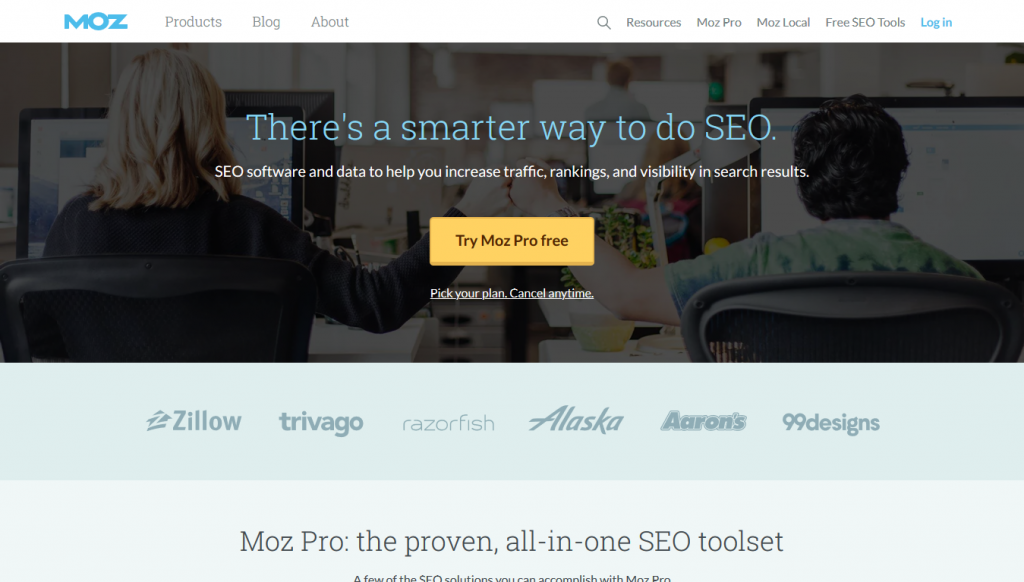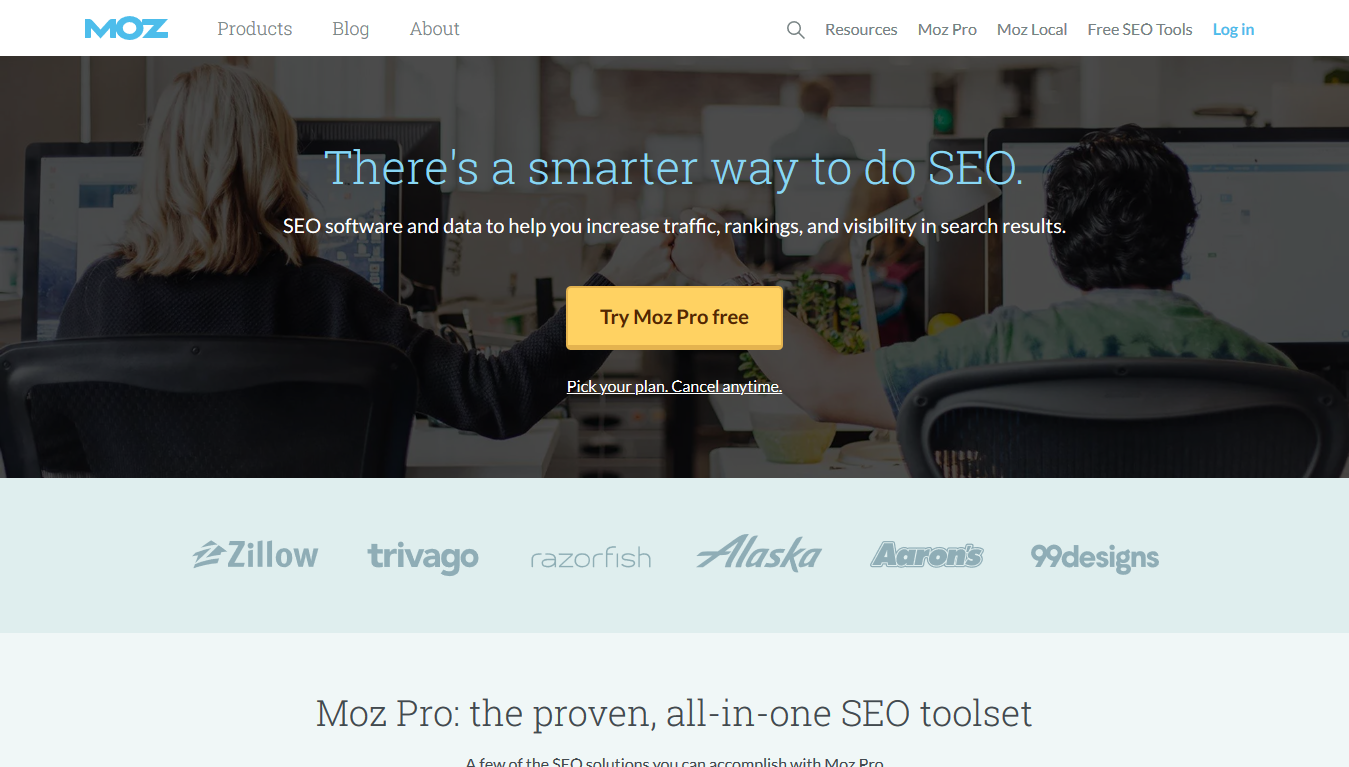 The MozBar extension stipulates all the important search engine optimization metrics on your toolbar for any URL you examine on Chrome. You can use it to do custom-built searches by search engine, country, neighborhood and municipality. It also goes to show the page government and domain authority of any discipline you search.
Use this extension to compare link metrics and distinguish ties-in by type and highlight keywords on any page you search. All decisions can be exported to a CSV file for easier analysis.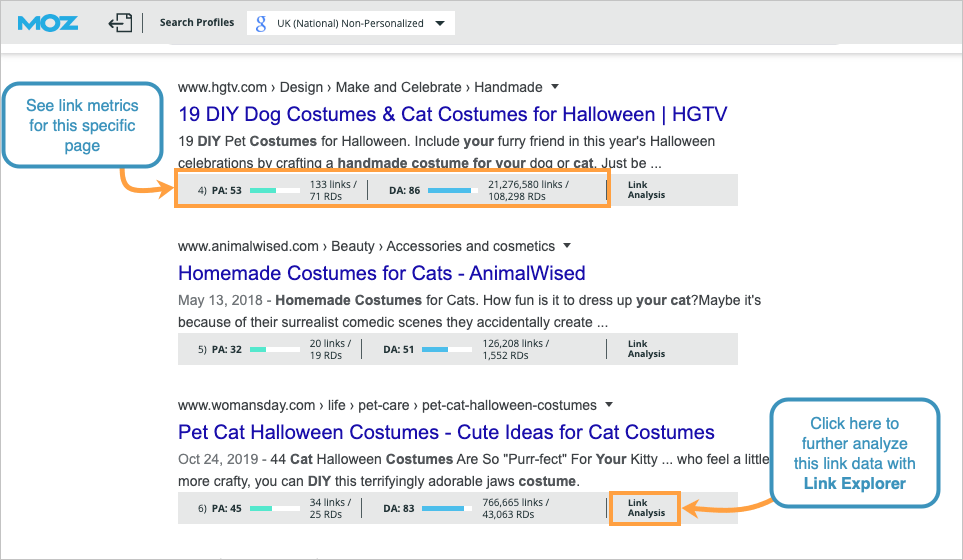 If you get a Moz subscription you gain access to additional facets 😛 TAGEND
You can be found in the keyword difficulty for any keyword you searchIt provides content suggestions and instant page optimization tipsYou can analyze any land in detail to get metrics you can use to improve your approach.
Note: MozBar is free but with limited functionality. If you're squandering the free version you won't interpret things like the number of links drawn attention to a orbit. To access essential features like the Keyword Difficulty Tool you need to have paid Moz subscription.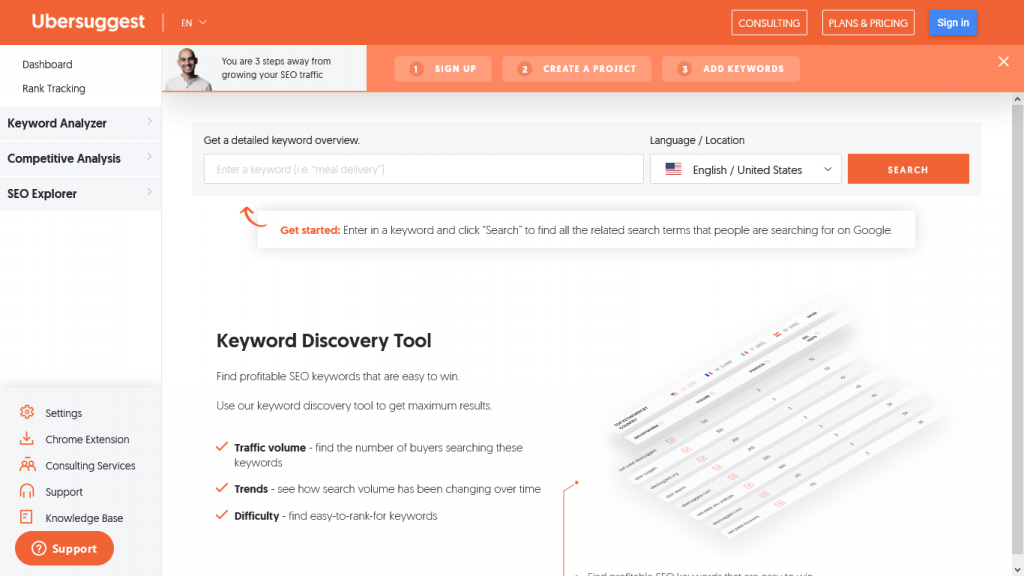 The Ubersuggest extension specializes in SEO and keyword detection. You can use it to see keywords by pursuing magnitude and the cost per sound for any keyword. Type in any URL to see its data and the keywords it's grading for.
When you probe on Amazon, YouTube and other favourite places such an extension will likewise give you examine metrics from those particular sites.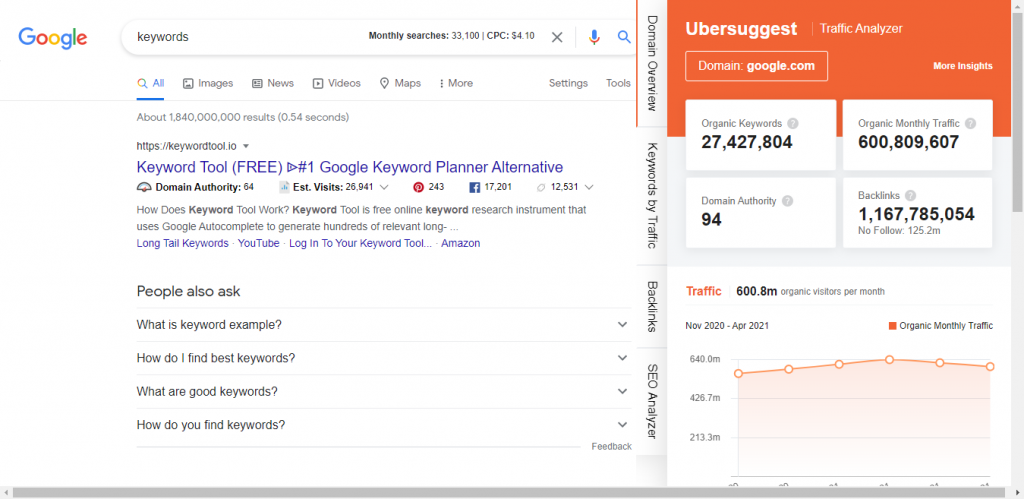 You can get more detailed analysis of URLs and keywords by clicking on the "View All" button within the extension 😛 TAGEND
It adds diagrams that indicate monthly probe veers for both mobile and desktop for any keyword.You can see probe freight approximations for the first 10 URLs of any search.This expansion caters backlink data: denoting provinces and arbiter of citing domains.For each website you visit you look a brief overview- the number of organic keywords the site ranks for, estimated traffic, region composition and number of backlinks. You can be found in data going back 6 months.The extension specifies gratuities to help you grade pages.
Note: If you want in-depth analysis, you have to go to the app, and it merely gives you three free pursuits a day.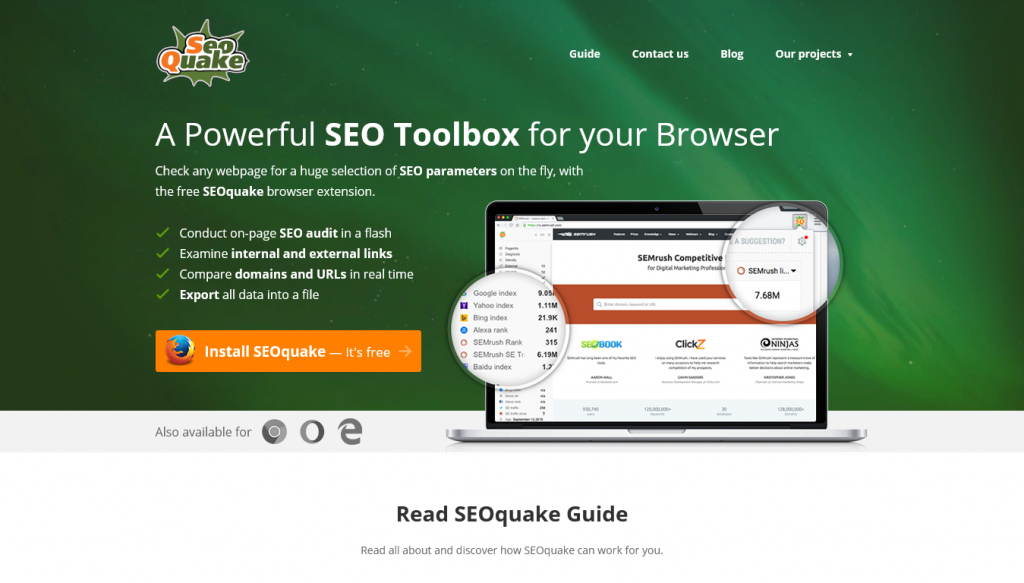 SEOquake is a free SEO Chrome extension that provides you metrics in an instant. It goes to show keyword rigor, checks social media stats for any URL and you can use it to compare URLs. You can use SEOquake to analyze internal and external links.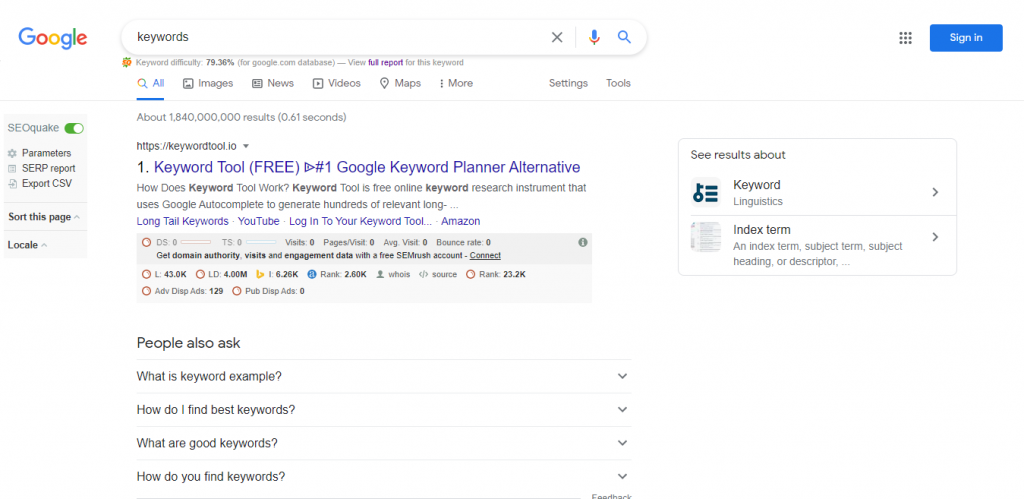 This extension drags data from Alexa rank, Semrush and more. All reports can be exported in CSV format. You can draw reports for a full land or for single pages. This postponement allows you to customize specifies to see the metrics that matter most to you.
Note: SEOquake is only free for the first 100 sheets you audit.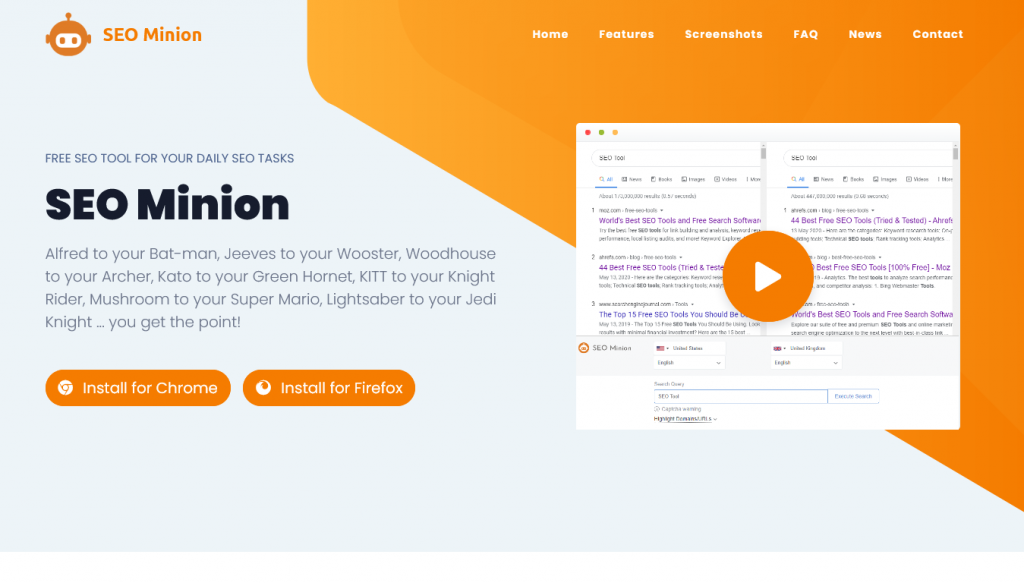 SEO Minion is a free extension that works for both Chrome and Firefox. It gives you a immediate SEO overview of any webpage. It's able to analyze backlinks and SERP causes as well. The postponement also provides PAA( People Also Ask) for any Google search.
This extension was created by the same unit that brought you Keywords Everywhere( another excellent SEO extension, see below ).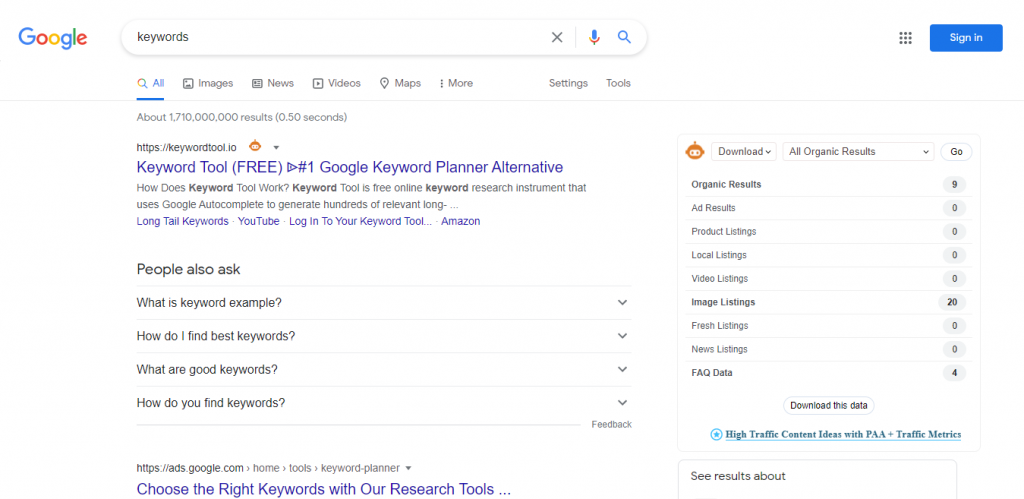 While it doesn't provide you with keywords, it gives you lots of other important metrics that support you how health a sheet is at a glance 😛 TAGEND
Use it to analyze on-page SEO( vacate or long title and description calls, manager analysis, image-alt attribute analysis and more.It highlightings all joins on a URL and shows you how many are internal, external, follow and no-follow.The extension checks for broken links. It likewise foreground links with flaws and redirects.Use the Preview SERP feature to see how your page looks like in search results.The SERP Location Checker shows you which websites are now in at the top of any keyword search.
You can also use this extension to look at your material before you publish it. It will show you what you may have missed and any formatting issues that may need correction.
Note: While such an extension offer excellent SEO analysis on the fly, it's not the most convenient for websites with multiple sheets. It takes a long time to check and the results aren't ever accurate. If you want to use it to check multiple URLs at once it's a good idea to back it up with another tool.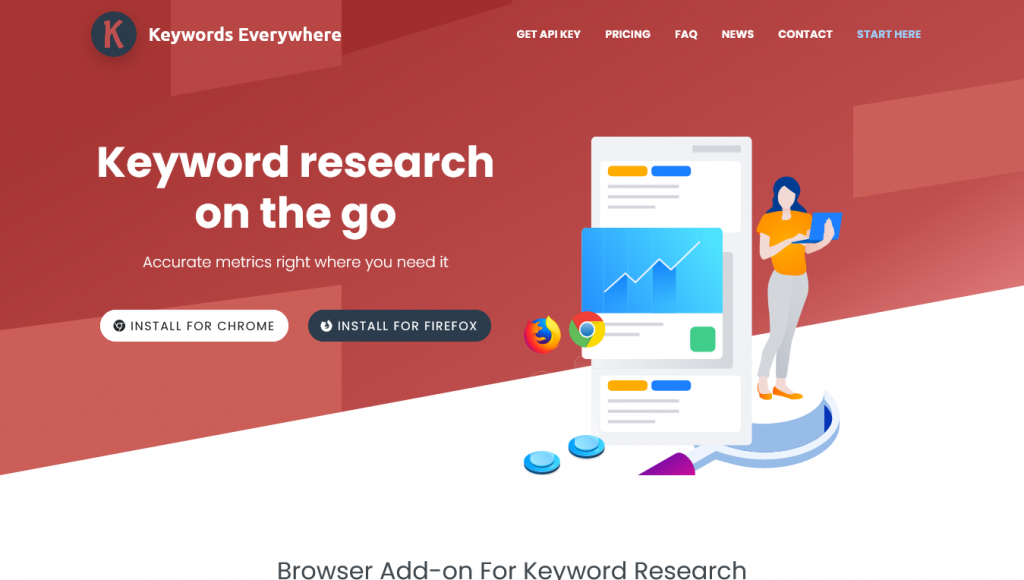 This extension goes to show you keyword loudnes, rival and CPC data for more than 15 favourite websites. It has built-in tools that picture you what keywords any page is ranking for, long-tail keywords and trending keywords.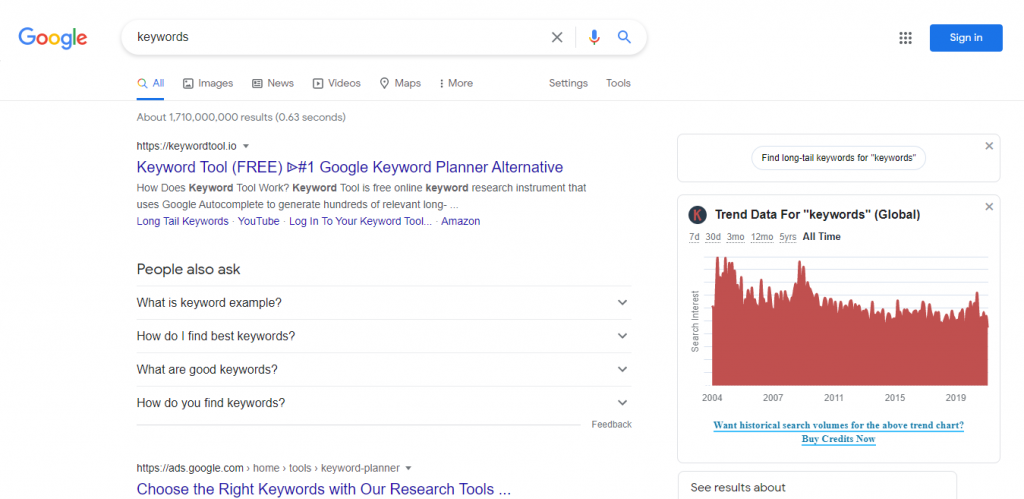 There is a free and paid version. The free form has the following entry aspects 😛 TAGEND
Keyword Widget goes to show relevant keywords, People Also Search and Long-Tail Keywords. However, you simply accompany the keywords , not magnitude data.It renders veer planneds, which are useful as you cannot see volume data.Traffic Metrics stipulates monthly freight guess on any URLOn-Page Analysis is a feature that you can use to check keywords on a page but it doesn't provide volume data.Competitor Gap Analysis helps you find keywords that contestants are grading for( and which you aren't ).
Note: While this instrument supplies valuable penetrations, the fact that it doesn't provide volume data doesn't help. If you want to see actual metrics you have to buy approvals, and although they don't cost much some increases can give you the information collected for free.
FAQ
How can I include increases on Google Chrome?
The process is simple. Visit the Chrome Webstore and sought for the postponement you crave. You will see an installation button. Click on it and follow the prompts.
The extension will appear on your Chrome postponements register( the jigsaw icon on the top freedom of your screen ).
To pin the increase on your toolbar open the list, look for the postponement and click on the pin.
Why are increases important?
Extensions material because they help you perform other-wise time-consuming and boring assignments with ease and accelerated. They are conveniently may be obtained on your toolbar and equip added functionality to your browser.
Many free postponements require excellent information but you may need to get the paid copy of the app if you want added functionality and in-depth analysis.
Can extensions predict my password and collect user data?
It depends; some SEO Chrome extensions providing access to individual URLs. They can captivate credit card details and passwords. They likewise obtain user data because it is an opportunity to function properly and improve results.
Can extensions be harmful?
Yes; they can be used to spread malevolent code. Some bullshit increases in the Chrome store are used to spread spyware, but then there few and are weeded out regularly. Before you install an extension look at user reviews and see whether there have been any complaints.
Increases vs. Plugins: what's the difference?
Plug-ins and postponements embarrass countless, and the terms are often used interchangeably. However, they are different. In a nutshell, plug-ins add functionality to a webpage while postponements add functionality to a browser.
Conclusion
Adding an SEO Chrome expansion is one of the easiest ways to get your SEO up to speed. They give you important metrics on the fly and some of the very best ones are free.
However, there are several hundreds of Google Chrome increases out there. There is a danger of becoming installing so many that you get overwhelmed by the data you receive.
The best thing to do is choose increases that competition your needs. For example, if you need keyword information, check the best SEO Chrome postponement for keyword research and look at the information it provides.
If we had to choose one from this announce, we would go with the SERPed.net SEO extension. It plies correct information for the SEO metrics that really matter. It also has a vital backlinks overseer gathering – you can add and remove backlinks on the fly.
Compare SEO Chrome Extensions in 2021
Chrome ExtensionDomain& URL AnalyzerCompetitor AnalysisSEO AuditKeyword AnalysisMobile FriendlyFree/ PaidSERPed.net SEO Ext .Free for Active MembersMozBarFreeUbersuggestFreeSEOquakeFreeKeywords EverywhereFreemiumSimilar WebFreeWooRankFreeRedirect PathFreeKeyword SurferFree
The post The 6 Best SEO Chrome Extensions in 2021 loomed first on Woofresh.
Read more: woofresh.com