And just like that, 2019 is a wrap. It seems like every time I sit down to write these thinkings posts, I can't believe just how fast the year went. As I'm writing this article, I have my furry friend( Spare Dog) at my paw, my furry Nick next to me( he needs to shave !), and I'm looking out to the sea and mountains beyond.
This past year was filled with adventurous travel to brand-new and echo countries, high-flowns and lows on the business and personal front, love and laugh on the relationship side and lots of fun here in Grenada. So much has happened, that I had to consult my iPhone photostream to remember all of the amazing things we got up to!
Images of elevations, colonial towns, ancient websites, and humid islands predominate the feed. It's been a pretty great year. Every 12 months has a feeling, a vibe, or some sort of big happen that stands out. For 2019, I'm dubbing it" A Time of Highs and Lows ". And you'll realise why after learning — the year was amazing, and then seemed to plummet at the end.
Here's a summary of its first year, and what we have projected moving forward into 2020.
Travelling around the Galapagos was a highlight of our year!
I've been doing these summary affixes for quite a few years! Here are the ones from previous years if you're interested 😛 TAGEND
2012: A Very Memorable Year 2013: A Time of Firsts 2014: Started and Ended With Mexico 2015: A Year of Spontaneity 2016: A Year of Big Decisions 2017: A Roller Coaster Year 2018: A Time of Achievements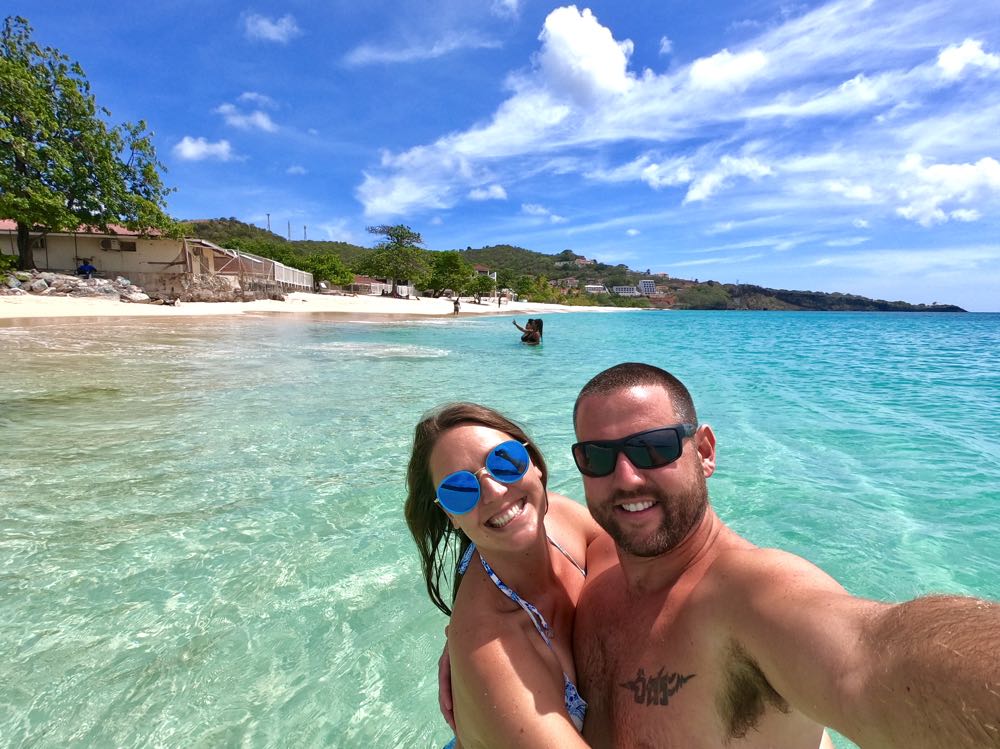 Celebrating our 12 time anniversary! Achieving Destinations Set For 2019
At the end of each yearly roundup article, we set some points that we want to achieve in the coming brand-new year. This is what we wanted to achieve in 2019 😛 TAGEND
Being more actively involved( travelling hiking more and meeting yoga again ). Exploring more of Grenada Continue establishing and provide useful information on our website Aid out( volunteer work, gifts, environmental causes)
I'm happy to report that we attained those goals!
Being More Active
This year, we got back into" hashing" here in Grenada, and while we didn't join the hikes every weekend, we did do quite a few. I've also affiliated yoga and attend years two times a week, most weeks. And, we are currently do something much walking then we used to, plus some at-home exercisings as well.
Nick and I both did got a couple of detoxes this year, one with natural pills, and one simply with smoothies and fasting. We actually just finished up a two-week booze detox and smoothie diet which is something we previously did when we were feeling a little heavy.
We thought it was a good idea to slim down and run dry before the vacation season! Nick lost 10 pounds, and I lost 8. In bag you missed last year's post:" We Got Fat- Dealing With Blogger Bod ".
When we're living somewhere, we find it hard to be active. When we're jaunt, it's much easier as we're always out can walk brand-new municipals, hiking to brand-new websites, or simply wandering aimlessly. Since we're not getting any younger, we're set state and wellness at the vanguard of our goals.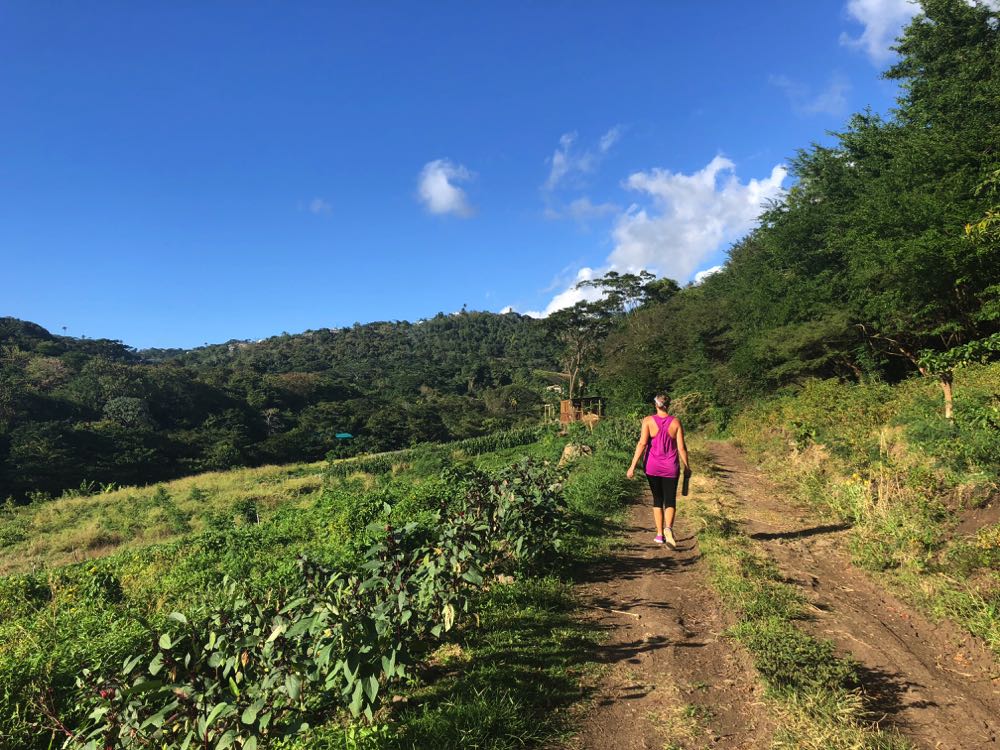 Hiking is our beloved space to stay active Exploring More of Grenada
Even though we've expend 5 years in Grenada( on and off ), it ever astonishes me that there is always brand-new neighbourhoods to discover. This time we explored got a couple of new hikes and accompanying courses, offtrack beaches and some enormous brand-new restaurants that have popped up.
On top of exactly locating brand-new lieu to walk and snack, we spotted ourselves attending several contests — wine-colored carnival, Carnival, music celebration, and chocolate fete. Plus, we explored the oceans and seas by sailboat on numerous occasions, did some deep-sea fishing, and Nick checked out the underwater world on scuba.
We likewise celebrated 3 birthdays with staycations here on the island. One on a cacao farm, in a treehouse cabin, surrounded by nature. Our four-legged friend also joined in on that bday weekend! My 35 th birthday was celebrated with live music, beach table imbibes, and lazy kitty days at one of the hotels here, plus a private sunset sail. Nick's 35 th was recently depleted experiencing a dinner party, followed by a light at a outlet seafront inn in a cute bungalow.
Yep, I'd say we did Grenada justice this year.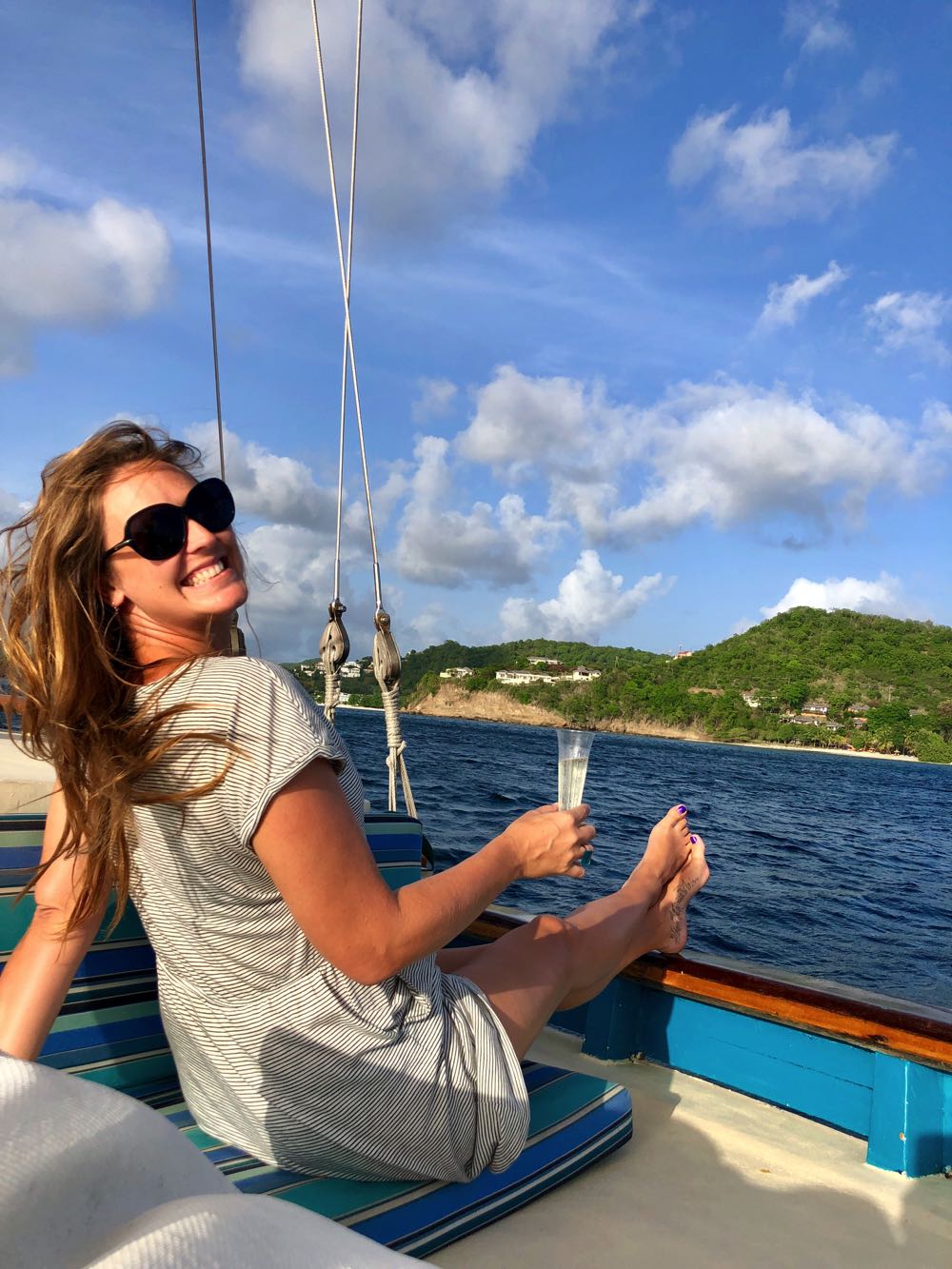 Sailing into 35! Continuing to Provide Useful Content on Our Website
As with each year, we are always creating new articles, videos and announces on our social media paths to hopefully inspire and assistance others when it comes to making money on the road, and hurtling the world.
In 2019, we published 157 essays on Goats On The Road, filmed and edited 20 YouTube videos and posted on social media 237 meters!
This year, we likewise kicked it up a notch and started a digital direction to help bloggers progress from pastime bloggers to a profitable business. And by we, I entail Nick.
Nick schemed, filmed, and appointed the SEO Made Simple online trend — spending hours to ensure it was detailed, professional and more importantly, actionable. Each of the 300 students who have obtained the course are also in Nick's VIP Facebook group where he shares his gumption and advanced methods for SEO. It's been very rewarding for both of us to see the students' progression!
Because Nick organized that route, we were invited to be a part of the Paradise Pack in 2019. For the past 3 years, "weve had" promoted the multitude( because it's filled with awesome commodities ), but this year we were invited to have our course in the bundle of online resources.
We were joyous!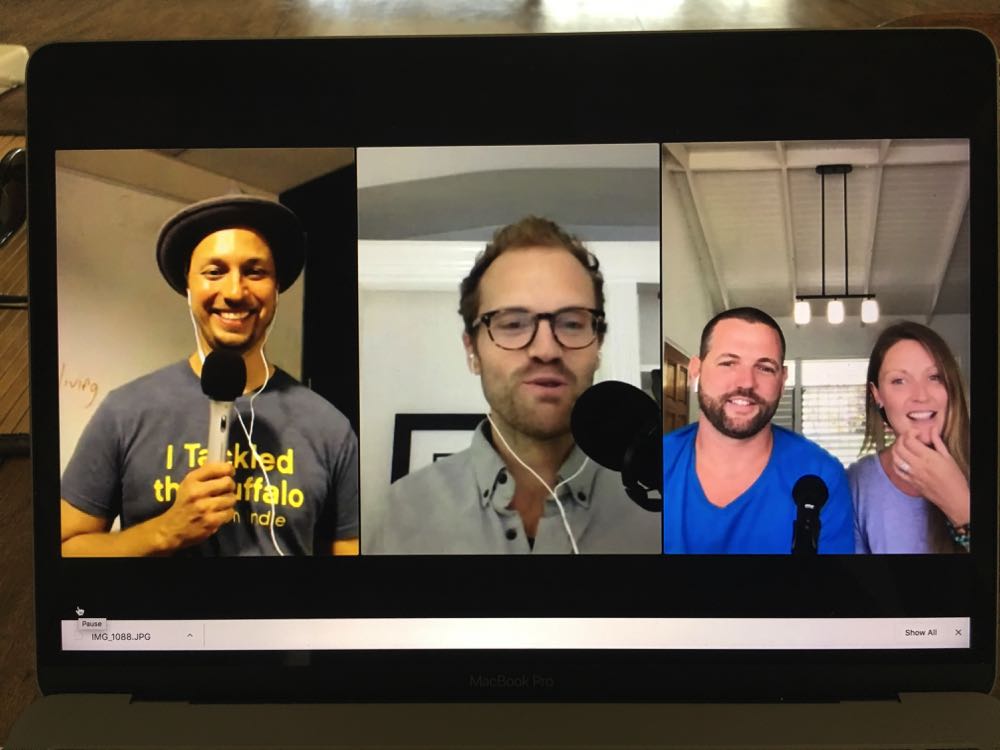 Chatting with Travis and Jason from the Paradise Pack was a lot of fun
We did an hour-long live chat online with the creators of the bundle( Travis and Jason ), with over 3,000 people watching at a time! We then did an hour+ podcast with Jason, where we spoke about our lives as digital nomads and travellers. Chitchatting with online collaborators is always a lot of fun, and we love this mode of interview.
Special!
If you're interested in learning some of our SEO mysteries, but aren't sure if you want to purchase the SEO Made Simple course, we're offering a free 1-hour session, here. Assistant Out
Finally, our last objective for 2019 was to help out more. In 2018, we were able to do quite a few things in Grenada, but this year we wanted to do more, both at home and away — there's always more that is able to done.
As with last year, we sponsored an eight-year-old girl from the orphanage so that she could attend a four-week summer camp now on the island. Her weeks were filled with arts and spacecrafts, biography and culture, plays and activities, plus a couple of jaunts to the beach to learn about marine life and the environment. I hope that this summer camp continued on these children as it's a great initiative.
We also assisted an creator in his" Beautify Grenada" programme where he sources out blank walls around the island and gazes to brighten up the community by illustration unique personas on them. "Our" wall that was painted is one that we drive by every day. It's is in front of a preschool and is now home to colorful turtles, balloons, trees, infants, and of course, goats! I hope this talented master continues his pursuing of beautifying small island developing.
Plastic is a problem worldwide. Our eco-blogging, crossing friends from The Dharma Trails put together a" Green Up Grenada" is planning to accompanied awareness to the plastic issues and to cleaning process the beaches( and underwater ).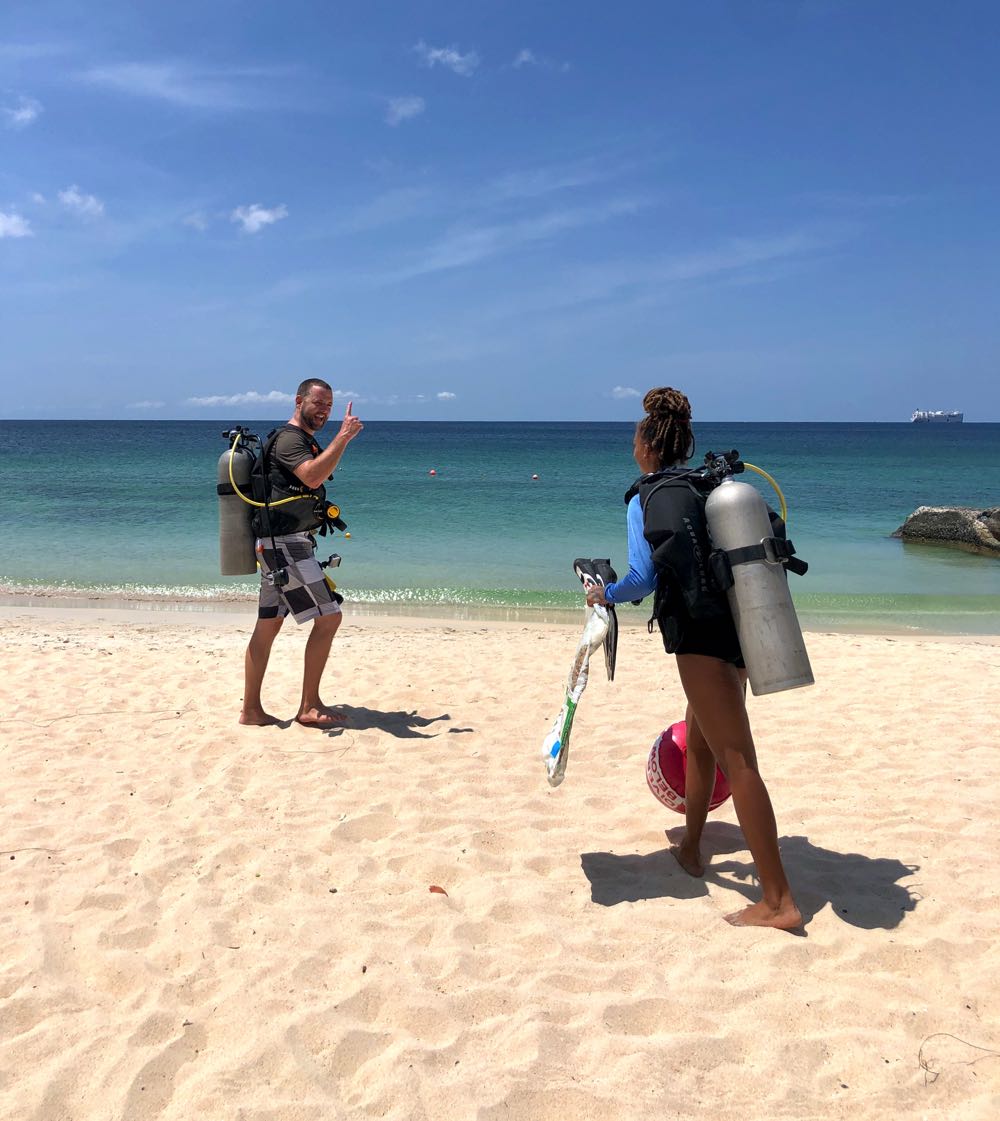 Nick heading out on a dive to cleanup the underwater world
We participated in the cleaning process of La Sagesse Beach( 323 pounds of garbage was rallied ), and the scuba diving clean up at Grand Anse Beach where 150 pounds of debris was pulled from the sea. This was a great campaign and hopefully it promoted more awareness about the unnecessary use of plastic now on the island.
Utilizing Our Home as a "Base"
A month after ringing in the New Year in Grenada, it was time for us to pack away the household items we had accumulated over the past year, load up our backpacks and made the road. Every February, the owners of the chamber of representatives we rent return to spend 5 or so weeks here. This means we have to vacate — which is OK as we go travelling again!
We had been pretty much sluggish for most of 2018, and not really utilizing our home as a cornerstone, which was the whole point of determining now — we planned to stay, and then travel, and reproduce. Instead, we felt a pluck( is it actually called a " attract" if we don't go anywhere ?!) to stay put.
This year, we were ready to properly make use of our locate. Live, movement, reiterate. It was time to get back out into the world. And, we actually intent up doing quite a bit of hastening this year — 5 months to be precise.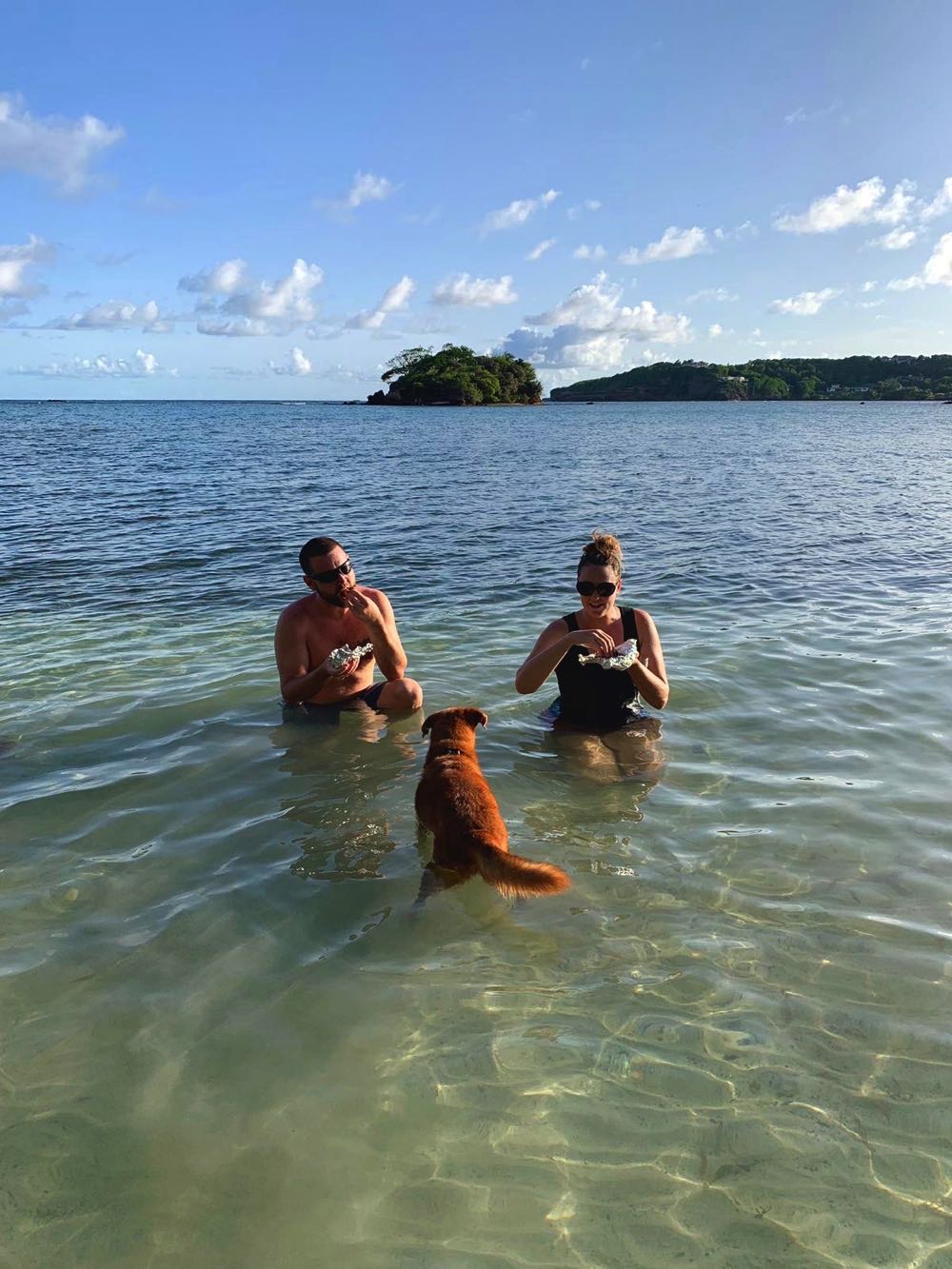 Eating bbq chicken in the sea with Spare Dog, after hiking- a great day!
Travelling for nearly half of the year and remaining still for the residual think this is the excellent symmetry for us. It allows us to have eliciting undertakings, test brand-new foods, and informed about brand-new cultures, but too grants us fairly downtime to rest, creation and catch up with friends.
I don't want to jinx it, but after travelling for 10 times, and blogging for 7 of those times, could it be possible that we've finally determined a work-life balance that suits our lifestyle ?!
Having explored Argentina, Uruguay, Chile, and Colombia in 2017, we knew we affection the continent of South America. So, when considering where to go in February, we made a look at the delineate and decided on Ecuador and Peru for our next adventure…and what an adventure it was.
We were offline for this entire trip and had a great time backpacking around these two countries. You can read about our thoughts and highlights of this journey in our summary essay here.
The hiking around Otavalo was amazing! Read Our Ecuador Articles Here 😛 TAGEND
12 Things To Do in Quito, Ecuador Mindo: the Complete Travel Guide Otavalo: The Ultimate Guide for Travellers Hiking the Quilotoa Loop: A How-to Guide Galapagos Islands Travel: A Guide To Travelling Independently
Press Trip Partnerships
Going on press journeys/ FAM junkets isn't our main blogging income model, but when we're invited somewhere that reverberates with our travel form and interests, we gladly accept the offer.
This year, we were invited on 6 press trips and had an incredible time exploring new ends — all of which were a great fit. Sure, we had been to these countries in the past, but the provinces and territories, cities, and islands that we visited were new to us.
Nova Scotia
Even though we're Canadian, we've seen very little of our different countries. So when the Nova Scotia tourism board invited us to experience what the little province has to offer, we climbed at the opportunity to see the east!
Jagged coastline, hiking streets, fishing villages, fresh seafood and welcoming locals — this is Nova Scotia. We picked up our rental car and had an incredible time artery junketing around the province for 3 weeks, while experiencing all the fun things to do in Halifax, and beyond.
With so many places to visit and adventures to have, we would definitely return and explore more of different cultures, cuisine and mood.
Read more about its own experience in Nova Scotia on the blog, here.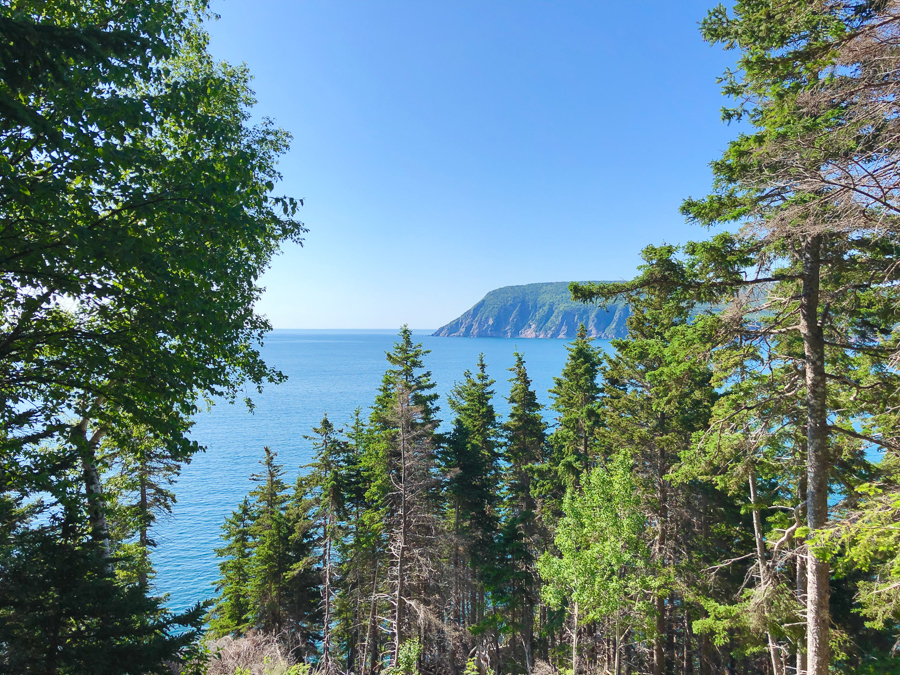 Beautiful nature in Nova Scotia on Cape Breton Island Indonesia
This island nation is one of the countries we toured on our first backpacking trip in 2009. We then returned to live in Canggu, Bali for a couple of months, and Nick went on a scuba diving trip with the Indonesia Tourism Board.
This time around, we were invited by Lotus Hotels, to experience their dive useds and share our sees with you.
We travelled to 4 different ends over the course of 15 days — Gangga Island in North Sulawesi, Birie Island in Raja Ampat, Candidasa on Bali Island and the island of Gili Trawangan. Even though we were on a trip that was planned for us, calling these destinations( some of which are quite offtrack) was an incredible experience.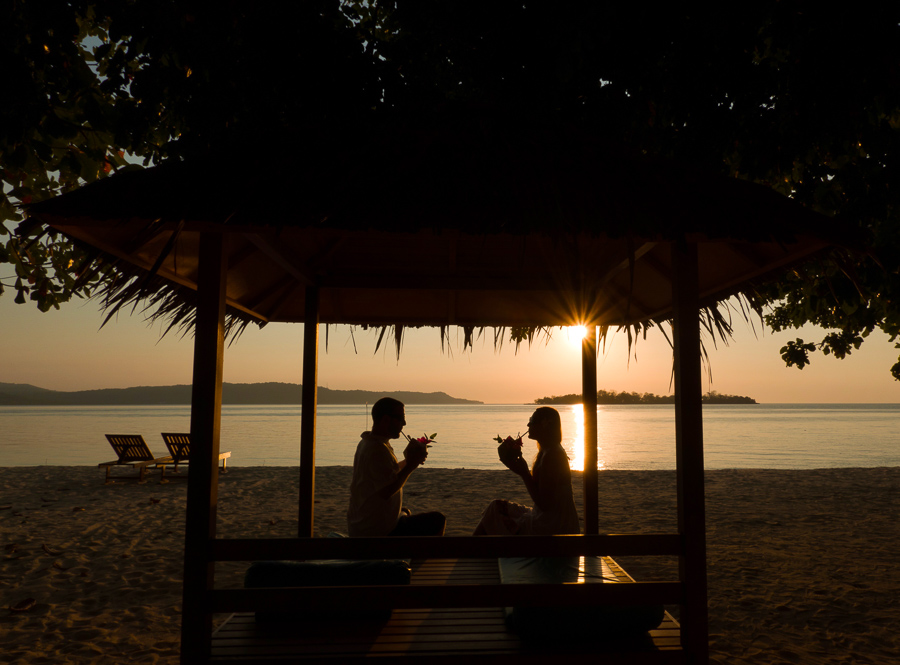 Sunsets on Gangga Island were amazing
The majority of the outing was centred around the epic scuba diving and snorkelling that Indonesia is known for, which was perfect for Nick! The accommodations were lush, the natural allure was out of this world( particularly in Raja Ampat !), and we experienced touring villages, dining on spectacular menu and interacting with the welcoming occupants of each island.
The beauty above and below the oceans and seas, the friendly parties, the deliciou cuisine and the overall vibe are the reasons we find ourselves returning to Indonesia. There's just something supernatural about home countries, and we're always happy to come back.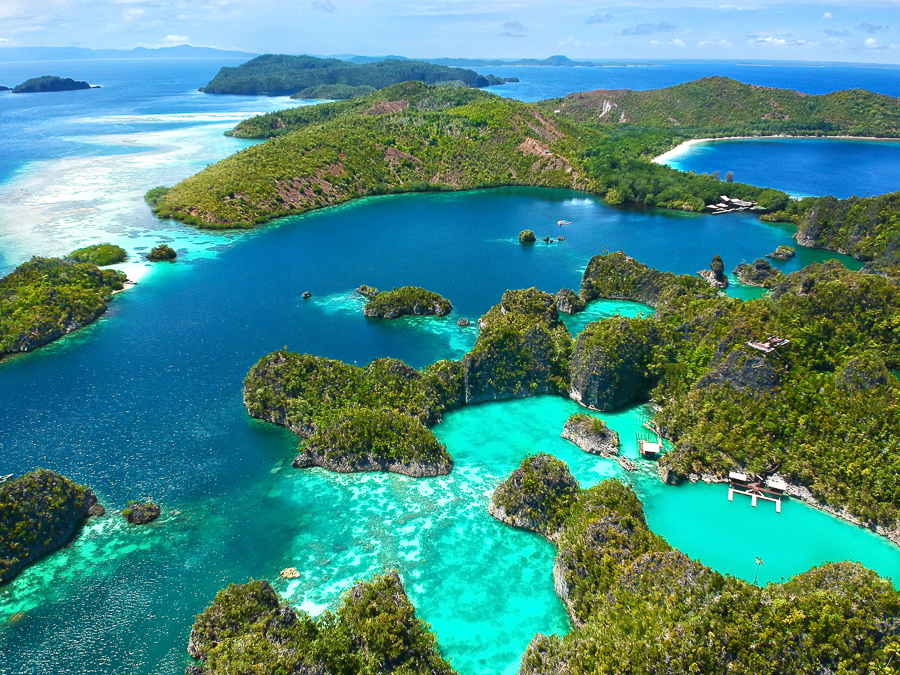 Drone's nose look of the FAM islands in Raja Ampat
In between Indonesia and Japan, we hop-skip over to the Philippines for our friend's wedding. We enjoyed some downtime with friends, a lovely wedding ceremony, and some exploration of Siquijor Island by scooter!
Japan
Just a few epoches after being invited to Indonesia, we received an offer to travel to Japan and check out some of the more offtrack prefectures( which are similar to provinces/ territories ). In 2017 we inspected Tokyo, Takayama and Kyoto and experienced the culture shock, cuisine and beings of Japan.
This time around, we were going to experience more of the natural grace, plus an offtrack municipality and learn about the culture of robbing in a sento( public shower ).
Four different tourism cards and associations invited us to visit their destinations, which were all places we hadn't been to yet — Akita and Aomori in the Tohoku Region, Okayama City, Nakatsugawa City and the Tokyo Sento Association.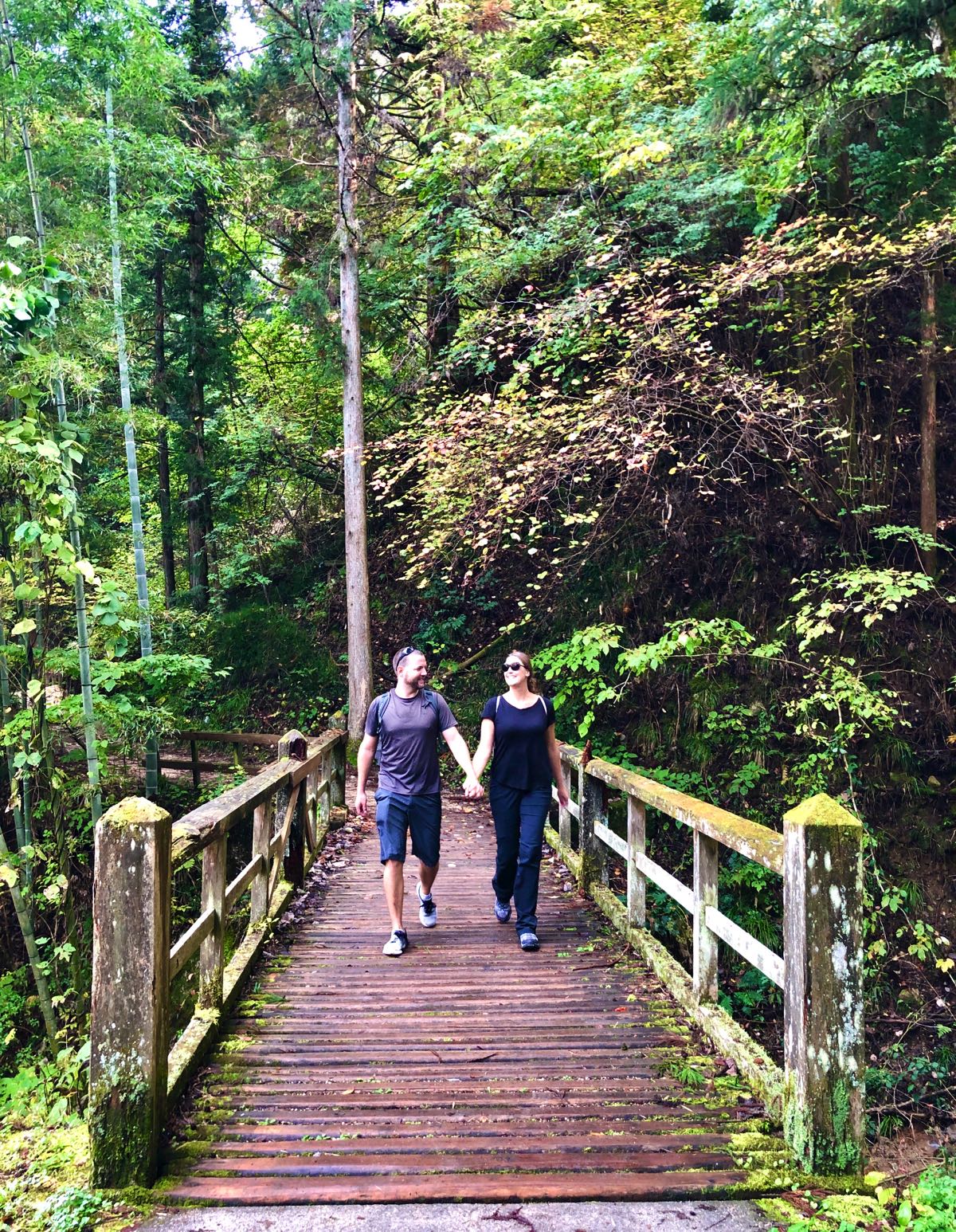 Hiking the Nakasendo Trail in Nakatsugawa, Japan
We ordered it up so we could visit all destinations during exactly one tour to Japan. There were a couple of free days during our 16 -day trip, including some time in Tokyo to hang out with our friend Jason from the UK who we met while backpacking around Central Asia in 2013!
This time around, we felt as though we learned much more about the intricate culture, and were able to dig a little deeper into the history, customs and cuisine. There's much more of Japan to see and we can't wait to return.
The Ups vs. The Downs
We arrived residence on a high. We had only been experienced an incredible couple of months travelling around Asia, we reconnected with some great friends on the road and our website was doing well in terms of partnerships, traffic to the site, and income.
We caught up with our friends( including Spare dog) when we got home, presented in accordance with the expedition and the year as a whole and were excited about the celebration season. More importantly, once we had finished our deliverables for the Indonesia and Japan safaruss, we had lots of plans for how we were going to improve our business — we were aroused!
But, between the time we arrived back in Grenada from Asia( November 9th ), to when this article was published( exactly over a few months last-minute) it may seem like all of our amazing attainments, undertakings and "ups" from the year have been snuffed out.
A beautiful sundown from our house
Goats On The Road was one of numerous websites that took a huge hit during the November Google algorithm update. What does that planned precisely? Well, Google changed the space it indicates material to those who are searching.
So let's say for example you two are sought for" things to do in Thailand", rather than just us is an indication as# 1 or# 2 because we're a well-respected travel blog with long, informative content, we have just been sagged down and you are being demonstrate more "authoritative" areas( ie: big companies ).
Why did this happen? We don't know. Which is incredibly frustrating.
Our traffic has lowered and we're scrambling trying to figure it out. Traffic feigns our revenue and partnerships, and how many people will see our letter, which is why it's such a big deal. One thing is for sure, we will continue to create beneficial and informative commodities for you and hopefully, Google will be happy with us once again!
This update pretty much affected areas across the board in the recipe and movement manufactures and while we still have a lot of traffic, it's difficult to see it go down overnight and knowing there's nothing we can do to fix it.
However, business and money are incidental in comparison to what happened 4 days ago.
From the time I was basically finished writing this article, to the time it was published, our friend Spare Dog passed away. This has been incredibly hard on us as even though we were his petsitters, we thought of him as our own, and spent so much time together.
Spare Dog will be loved and missed
Spare was the reason we came to Grenada in the first place back in 2014 and was the purpose we obstructed on returning. He was the first( and only) pup I ever adored — no others will liken. This year has ended with sadness for us, but we're trying to focus on the superb life he passed, and all the undertakings he experienced — he explored more of Grenada than anyone we know!
This little furry persona made an impact on everyone he met and thought of himself as human, rather than animal. From cataracts and private islands to offtrack courses and brewpubs, Spare became everywhere and everyone knew him.
Nick and I express our appreciation for the last 10 dates we had together with Spare at our dwelling, and that his mothers returned from the UK in time to say goodbye to their sweet boy. We'll miss Spare( Doodle) Dog dearly and Grenada won't be the same without him.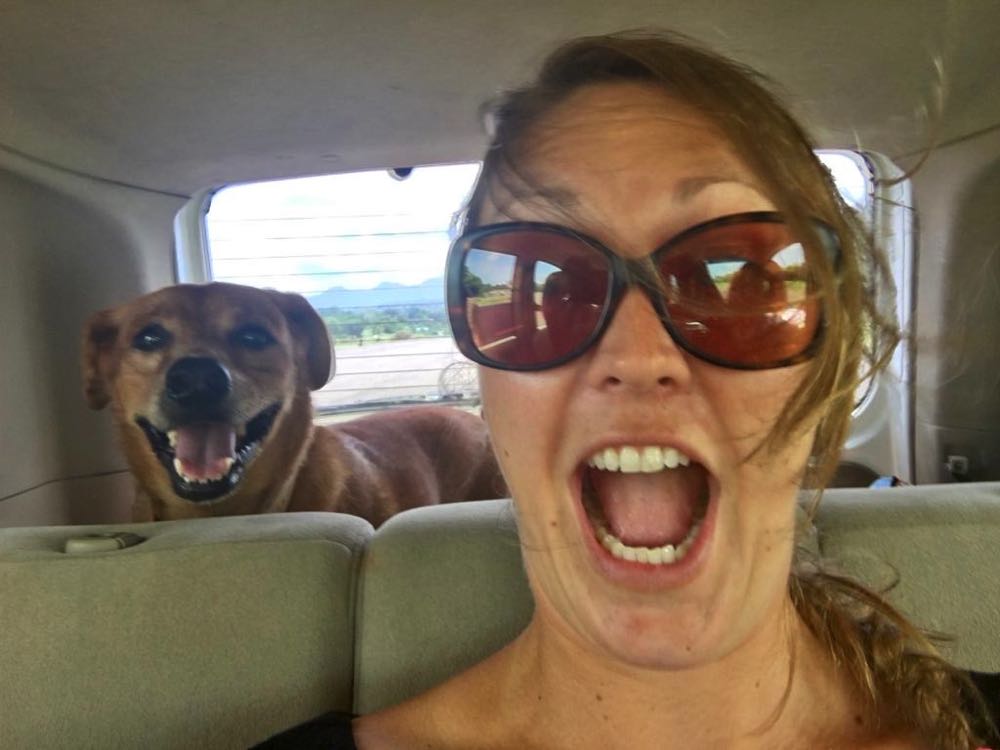 haha, this photo is my favourite! Excited for an adventure, Spare ?! Moving Forward into 2020
I've been speaking with blogging colleagues and passage friends who everyone has their 2020 dockets filled with proposes. Currently, for us, there are no projects — which I think is great! No occupation commitments proposed , no flights booked, and nowhere we have to be.
We're thinking of 2020 as a space slate. It's a fresh, pure time waiting for us to colour in the time slots as, and when, we want.
For me, 2020 means "vision" and "clarity". And while everything looks a little bit misty at the moment due to the stress of the past weeks, formerly we move into the brand-new year I'm certain some definition will start to appear.
I have a feeling there are some epic changes on the horizon and we're agitated to see where we go, and what we end up doing!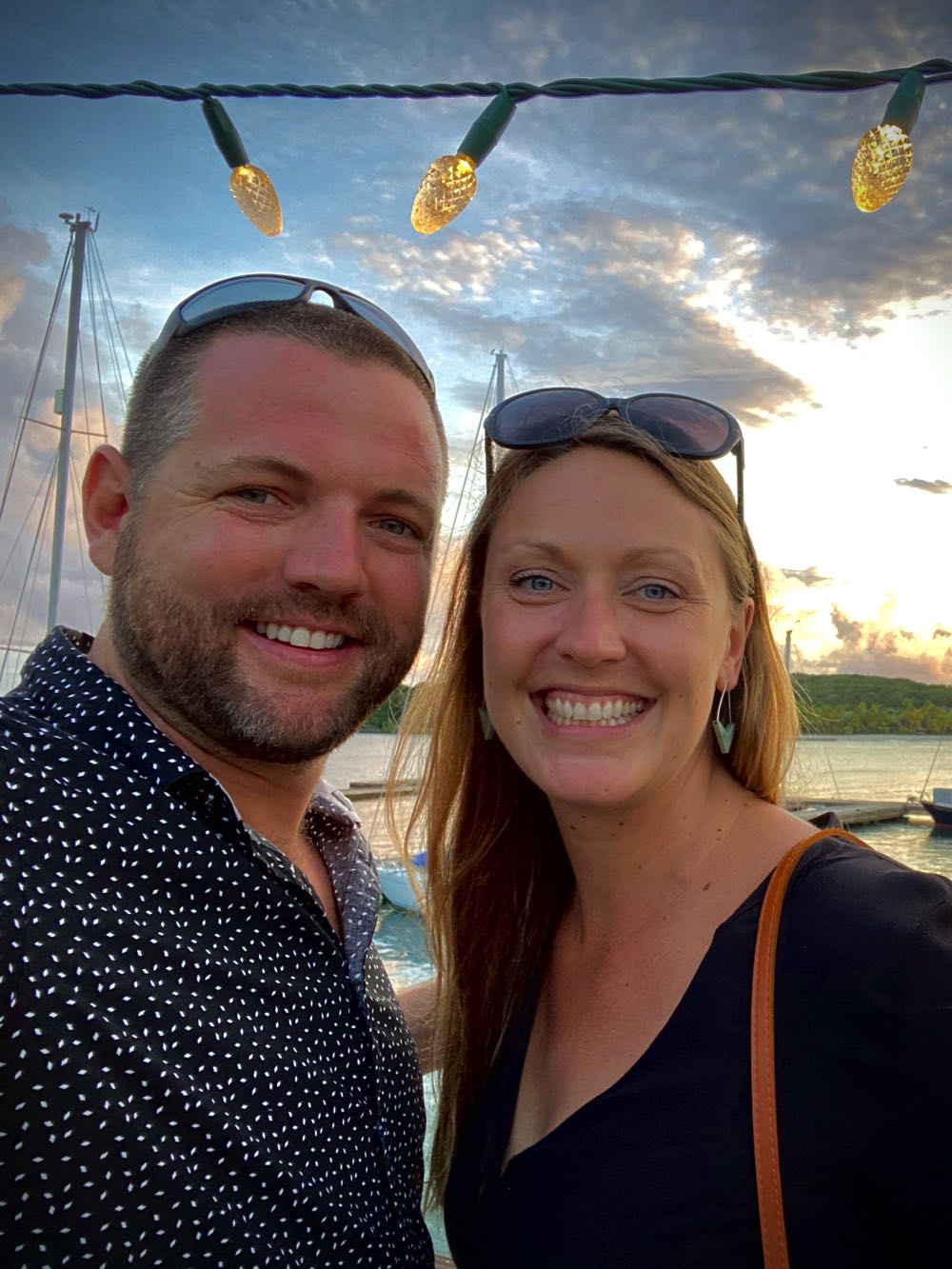 Wishing you an stunning time ahead!( photo taken during Nick's birthday surprise)
Since this is a travel and lifestyle blog, we've always been honest and upfront with you, with the hopes that you'll appreciate the real parties behind the words. Instead than being merely a generic walk website, we meditate personality and personability are an important part of sharing and connecting with our readers.
As we pate into 2020, Nick and I just wanted to sincerely expressed appreciation for following our jaunt this past year, and we're looking forward to sharing our upcoming adventures( whatever those is also available !) with you in the brand-new year.
We hope to inspire you to travel to some brand-new destinations and maybe even find work make whatever it is you compassion while on the road. We'd love to hear from you as well, so please comment down below, or send us a private email.
Wishing you state, pleasure, and enjoy in the coming year.
Dariece& Nick( the Goats)
The post Looking Back on 2019: A Time Of Highs and Lows appeared first on Goats On The Road.
Read more: goatsontheroad.com